Should I put my photo on my resume? If yes, then how to choose the right photo for Resume? These are two of the most common questions people have about photos in their resumes, even those who have years of experience in the job market.
If you have these questions yourself, don't worry, as this article provides insight into the matter. We will talk about everything from how to take professional photographs for cv to putting a picture in your resume including some CV and resume photo tips, so stick around!
Should I put my photo on my resume?
A professional and correctly-taken photo may benefit your application by creating a positive impression on the recruiter. There are even photography techniques that can be used to make your employer think that you are warm, friendly, reliable, or determined simply by looking at your picture.
It will also allow you to distinguish yourself from other applicants, contributing to your 'brand' and even make you more memorable in your employer's mind. However, there are many other factors you should consider before making this decision.
To decide whether or not to include something in your resume, you must first think about how it contributes to your application. Is this something that will help convince employers that you are suitable for the job?
The importance of a photo in supporting your case depends on the job that you're applying for. If you're applying for a data analyst position, it's unlikely that your looks would matter much in how well you do your job.
However, if you're applying for a role in the media, modeling, and hospitality industries, your looks play a role (to varying extents) in your job, thus, a Head Shot is required alongwith the resume. An attractive candidate is likely to be chosen for a position for an actor, and a person who looks warm and approachable is more likely to be chosen for the position of receptionist. Check these profession wise resume samples for a better view on this point.
However, some experts say that even applicants for these positions shouldn't include pictures in their CVs as they are redundant. If you're applying for a modeling job, you're going to send a portfolio anyways, so what's the point of having a picture in your resume? As for acting, you'll have to perform an audition as a part of the application process so a picture won't be necessary.
But then again, if you're asked to submit a portfolio or perform an audition only after submitting the initial application with a resume and cover letter, then including a picture might be a good idea. It could give you an edge, helping you stand out from the other applicants.
Consider these factors and evaluate whether including a picture is a good idea.
It's also important to think about resume conventions. Is it normal for applicants in your industry to include a picture in their resume? If it's something that is commonly done, it is okay to do it. The employer may even expect you to do it.
Another factor that influences resume conventions is your location. Is it customary for people in your country to send a resume with a photo on it? Generally, this is not the case in the US, Canada as well as the UK. On the other hand, people from most European and East Asian countries follow this practice. Therefore, understand the rules (which are often unspoken) of the country where you're applying for a job.
In one of our other articles on ideal resume length, we mentioned that your resume should only be one or two pages long. This means that you are probably hard-pressed for space as you create your resume. Do you want to waste it by taking space off for a photo?
If you think that there are more relevant and more impressive things that you can include in the space that your photo would occupy, it's best not to include it. After all, there is one more skill or one more accomplishment that you can add to the list.
But the worst thing that might happen if you include your picture is discrimination. This is not necessarily conscious- most of the time it is not. Instead, the implicit biases of the person reading your application might work against you. They might make unconscious judgments about you based on factors unrelated to your abilities, such as your race and age. It's unfair, but it's something out of a person's control. So it's best to prevent this unnecessary judgment by not including a photo.
The fact that employers can unconsciously show prejudice based on appearances also opens companies up to potential lawsuits. If you're rejected, you have the option of using your employer for discrimination.
For this reason, some companies have even created a rule against candidates including pictures in their resumes. If a resume has a photo of the applicant, it is automatically rejected, no questions asked. Make sure that you know the policy of the company that you're applying to before doing anything.
How to choose the right photo for your resume?
We now live in a multimedia age. Today, many employers like to see potential employee's photos before scheduling an interview. It also increases the credibility of the candidate.
So, if you've decided to include a picture in your resume, you have to figure out exactly which one to choose and how to take professional photographs for your CV. Make sure that your photo creates the right impression on the person reading your application. To help you make the right pick, we've compiled a list of CV photo tips below.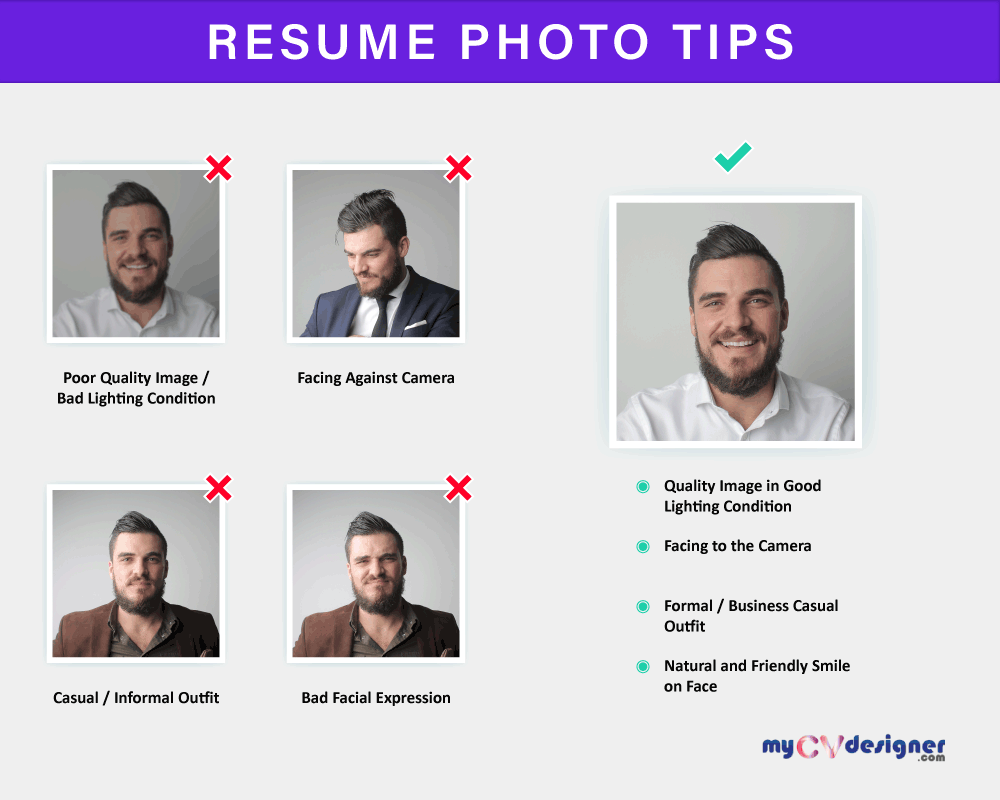 Picture quality:
Your face should be visible, so ensure the photo is taken in good lighting. It shouldn't be harsh.
The resolution of the image should be high. Make sure that it isn't blurry.
Looks/expression:
Make sure that you are looking professional in the photo.
You should be facing the camera and looking straight at it.
You (upper body upto the chest) should fit inside the photo. There should be some space between your body and the edges of the picture.
Ensure that your hair is appropriately styled.
You should be wearing formal wear or business casuals in the photo.
Have a natural and friendly smile on your face.
Not only a proper photo, but the photo positioning on the resume also matters. There are three different positions which you can consider for your photo.
Top Left Corner
Top Center Position
Top Right Corner
Most professional resume templates have these three places for featuring a candidate's photo. A proper resume photo positioning makes a good impact when showcased with relevant, professional-looking photo borders.
So, 'how to take professional photographs for CV'? I think you got the answer.
Alternatives to a picture:
Of course, we can't ignore the benefits of having a resume picture. Given that companies go through hundreds, even thousands of applications before they select the winning candidate, it would be useful to put a face on your application by including a photo.
After all, one of the worst things that could happen is for the employer to confuse you for someone else.
You'd be right to be anxious about this. But you don't necessarily have to include a picture to brand yourself. There are some other things you could do.
Add a link to your LinkedIn profile. There are no rules against adding a picture on your LinkedIn profile. In fact, given that it is social media, it's considered important to have a photo on this site. Since most employers will click on this link, adding it is a good idea.
Include a logo. You can use a logo-builder to create a personal logo for yourself, but make sure that it looks gentle, as resumes fulfill the professional purpose. This would attract the attention of the person reading your application.
Creating a resume is a highly difficult task. It is made even more intimidating by the fact that it is the most important document that your employer will look at when they are deciding whether or not to hire you.
The main purpose of your resume is to communicate your value to the employer and therefore convince them to take you in. There are many things that you must include in your resume to achieve this- a photo isn't always one of them.
Having a photo unnecessarily takes up space, doesn't usually contribute to your application much, and may even get your resume to be automatically rejected.
For this reason, you can try alternatives to adding a photo to stand out and truly personalize your application. You can add a link to your LinkedIn account or, even better, put an aesthetic logo in the header. This will not only save you from trouble but also impress the employer.
These days, many employer's visions have changed. Though some countries have strict rules about the photos on a resume, these days many employers started welcoming visual resumes with the candidate's photo. So, it's better to consult a professional resume writer or a career advisor on it.
We hope the resume photo tips we provided here will help you.