Simple and Designed Professional Cover Letters.
Take a look at our wide range of simple and designed cover letter examples and book one to give more power to your job application.
A cover letter is a job seeker's first introduction to the hiring manager. It delivers some important information about the job seeker and makes the person memorable to the hiring manager. It demonstrates why they should consider a resume for the job.
For every job application, a fresh cover letter is a must. A proper cover letter should be 3-4 paragraphs long and must be one-pager. It must contain the sender's contact information, the hiring manager/company details, a memorable introduction, relevant work experience (in short), and achievements with a 'call-to-action' closing paragraph.
A Proper Cover Letter:
Gives a short intro of the job seeker.
Makes a job application powerful.
Attracts the hiring manager's attention.
Accepted by any company or recruiter.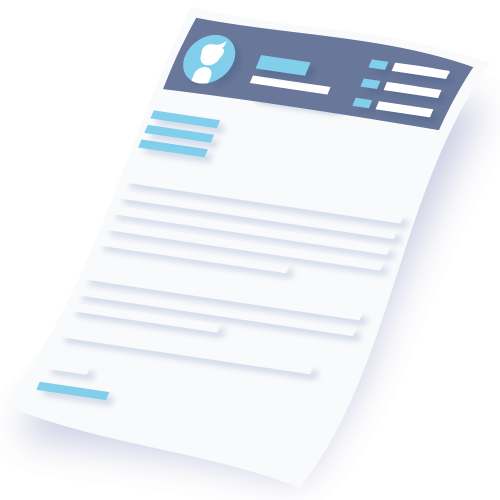 Who should use Cover Letters?
Not every job advertisement asks a job seeker to submit a cover letter. But, it is always good to send one with the resume. Nearly 60% of recruiters believe a job application without a cover letter is not worth it.
Our career experts suggest every jobseeker to send a cover letter along with the resume as it completes the job application and makes a good impression. Only for the online job application processes, there is no need to send a cover letter.
How our cover letter builder works:
Anyone can make a cover letter using MS Word or Apple Page. Most people make their cover letters and use it, but don't know how to write it properly. If a cover letter is inappropriate, a person may lose the interview opportunity.
Our cover letter builder team collects information from customers, analyzes that information, and writes a proper cover letter script. Then the draft is sent to the customer for confirmation. Our designers make the final cover letter that contains proper spacing, design, and proper fonts to assure it makes a positive impression.
If the customer asks for any modification, our team does that accordingly and delivers the final letter.
Why are our cover letters so special?
Our cover letter builder team works for job seekers globally and knows how to impress the hiring managers very well. Our Industry-specific writers make cover letters that meet the recruiter's expectations to the best and boost the job seeker's chances of getting hired.
Our cover letters are proven to land many jobs. Every year, we add new cover letter templates to our database. We value our customer's expectations by giving modifications until satisfaction.
Free Resume/CV analysis by our experts
Place Your Order

Book from a wide range of products & templates, and place an order according to your professional experience.
Discussion With Experts
A dedicated coordinator will communicate and discuss all your requirements and may collect your updated cv/resume.
Making of the Resume

Our expert resume writers and designers will make the first draft according to the industry rules and your given information.
Delivery

The first draft will be delivered within 5 working days. Emergency delivery services are also available.
Modification & Confirmation
At the time of draft delivery, you will be asked for any modification you need. Upon confirmation, we will deliver the final product.
Support & Feedback

We support free modification for one year. After order completion, you will be requested to give feedback.
My Resume looks 10 times better than before. I took their assistance for making my own resume where the details of my career and personal staff would be mentioned in an unique way, and they have done it brilliantly. A big thanks to them.

Sukla Basak

July 23, 2020

Fast & effective service I must say. Thanks team for rewriting my CV and give it a professional look. Now I feel more confident to attend my future interviews.

Subrata Saha

July 20, 2020

These designers are excellent in their profession. Their help enhanced my career opportunities, I must agree that. And the most appreciatable thing is you guys live upto your promises which I liked the most. Carry on and do the best out of you. Thank you 😊

Arindam Das

July 14, 2020

I'm satisfied with the resume prepared by "My CV Designer" as the resume is very professional as well as attractive. I have got many calls from employer for the job interview. Thanks for the professional service.

Austin Sahu

July 19, 2020

The service is quite good. My resume got the 2nd revision. First one from a bogus resume service, but this time, the result is pretty good. Highly satisfied!

Manish Kumar

July 8, 2020

Really professional people with in depth knowledge in what they are delivering. I got shortlisted in 4 out of 6 companies for interview when I started applying for job. When you have qualifications, experience and skills... All you need to get selected is your CV and your Attitude. You can leave the 1st one on these guys... They will definitely give a great and cool outfit to your CV. In time, value for money service. 👍 Go for it.

Srijit Bhattacharya

July 18, 2020

Never had opted for a professional CV writing service but these people changed my mind by delivering the most attractive version of my CV. I have started to get more response from HR's thanks to these guys. Prices are also affordable, didn't pinch my pocket much!

Aakif Ghayas

July 18, 2020

My CV Designer was amazing! Kelly and team were wonderful at helping me achieve my career goals. The resources, strategy, and advice shared with me helped take my career to the next level. I am definitely recommending them to all of my friends who are willing to invest in themselves!

Looking Very professional. Keep up the work!

Beera Padmini

July 13, 2020

Mycvdesigner helped me land a job quickly. I was searching for a job for a long time and wondered why I did'nt get any interview calls. One of my friend told me about this website, and there, I got many informations regarding job search and cv. I came to know that my cv is the main reason for the failure. They made my cv in such a unique way, I got 4 interview calls within a week and finally got placement. They are providing such a good service. Thanks team.

I'm impressed! The new cv is just superb and eye-catching. The blogs are also interesting and full of information.

Brojeswar Roy

July 6, 2020

I used mycvdesigner for myself and my friend, and very pleased with their service. The templates are amazing. I choose a visual cv and they just made it perfectly. Good service.

Kyndall Stewart

May 2, 2020